How to Start Betting with Skrill
The first step to start betting online from India is by opening a betting account from our list of tried and trusted sites.
Once you have registered and logged into your betting account, you can then use Skrill to add funds to it. Opening a Skrill account is also a quick and simple task.
The funds you add can then be used to place cricket bets of your choice.
Funding Your Online Betting Account with Skrill
One of the main advantages of choosing Skrill to make a deposit with an online betting account is the speed at which the funds will arrive.
Usually, the process takes just a few seconds.
Log in to your betting site account
Go to the deposit section of the account
Fill in how much you would like to deposit
Choose Skrill as your payment method and submit
The money will be added to your balance almost instantly.
This kind of flexibility means players don't have to worry about keeping money in their betting account or funding it far in advance of their favourite events.
Is Skrill Legal and Safe in India?
Skrill is completely legal and safe to use for customers in India.
It is also the most popular payment method for funding betting sites too, so there should be no concerns about it not working.
India is one of the top countries where people are able to open Skrill accounts. This is further highlighted by the fact that Skrill accepts rupees.
You can also apply for a Skrill card in India too. You can use this to shop online or even in some real stores in the country. We talk more about this card further down the page.
Why Bet with Skrill in India?
As a leading e-wallet provider, Skrill is cricket betting sites.
This is especially the case as PayPal isn't usually an option for customers in India to fund their betting account.
Not only are your transactions processed safely and quickly, but there's no need to link your bank details to your bookie. The added layer of security is often very appealing to the online betting community.
All you need is the email address and password you used to set up your Skrill account. Generally, deposits are instant. Indeed, it can be faster to withdraw funds than other banking methods.
Betting in Indian Rupees with Skrill
Players using online betting sites in India will be pleased to know that rupees are one of the 40 different currencies accepted by Skrill.
You can select the currency as the default setting on your account, avoiding foreign exchange fees.
This is even more convenient if your betting site of choice welcomes deposits in INR, making the whole process even easier.
Skrill Has Many Other Currency Options
Another bonus of using Skrill with online betting sites is that they have a wide range of additional currency options.
Here's a look at just some of the currency choices for other countries outside India.
There are over 40 currencies accepted so there is a good chance Skrill has any others you are looking for.
| Country | Currency |
| --- | --- |
| Pakistan | PKR |
| Bangladesh | BDT |
| UK | GBP |
| Europe | EUR |
| Australia | AUD |
| New Zealand | NZD |
| United States | USD |
| South Africa | ZAR |
| UAE | AED |
Skrill India – All You Need to Know
If you want to know how to use Skrill in India, you've come to the right place.
Opening a Skrill account is easy. It takes just a few minutes and you'll be able to add money to your account.
From there, you can deposit with betting sites instantly. The e-payment system welcomes customers from around the world, but also works in India as well.
Skrill India is a trusted choice for gamers moving money in an instant and are accepted by nearly all major bookmakers in the country. Indeed, as an FCA regulated company, you can also bet with confidence.
How to Open a Skrill Account in India
Head to the Skrill website to get started
Click register at the top of the page
Enter your first name and last name
Select India as your country and INR as currency
Confirm the email address you want to register the account to
Choose a password
Click Register to confirm your details
Once this process is completed, you'll be directed to the Skrill Dashboard. This is the main account hub where you can deposit, withdraw, or send funds.
Be aware that there is an additional verification process if you want to use cryptocurrencies such as Bitcoin and Bitcoin Cash.
Skrill India may also ask you to verify your account in order to raise the overall limits available.
How to Verify a Skrill Account in India
Log into your Skrill account
On the Dashboard, click "Settings" from the menu on the left-hand side
Select the Verification option, then Verify ID
Verify your Skrill account via Facebook (Optional) or with your ID documents
If you have a smartphone, download the Skrill app
Select how you'd like to verify your Skrill account by entering the country/region and ID type
Use the camera or upload copies of your government-issued ID e.g. passport, driving licence, national ID card
Click submit
Your account will then show as In Review while the documents are checked
Once approved, your Skrill India account will be verified. You'll get confirmation of this via e-mail
Verify an Address on a Skrill Account
As well as confirming your identity, it may be required that you verify your address in order to access all the features on a Skrill account. This is easy to do and follows a similar process to ID verification.
Log into your Skrill account
Click "Settings" from the main dashboard menu
Choose the Verification option, then Verify Address
If Geolocation is enabled in your country, you can use this to allow your internet browser to access your location and confirm it matches your registered address
But if this isn't possible or isn't available, choose the Upload Address Document
Upload a copy of an approved document showing your full name and registered address. The Skrill app is a good choice here.
The document can't be more than 90 days old
Click Submit
One your address is validated, you'll receive email confirmation
How Can I Fund My Skrill Account?
There are multiple ways of adding funds to your Skrill account.
Over the years the company has increased the number of options significantly, including cryptocurrency and other e-wallets.
This is great for customers who might want an alternative to the original options of bank transfer, credit, or debit card.
You can fund your Skrill account using:
Credit/Debit card
Bank transfer
Neteller
Paysafecard
Bitcoin and Bitcoin Cash (Requires Verification)
Withdrawing Money From Skrill
It is also an easy process to withdraw money from your Skrill account.
Go to the 'Withdraw' section of your account and select a registered bank account to send the money to. Any additional fees to do this will be shown.
Skrill vs Neteller – Banking Methods Compared
Skrill and Neteller are two very popular banking method choices for betting in India.
They operate in a similar way, allowing players to avoid having to register a bank card in order to make deposits and withdrawals with online betting sites without fees.
What are the differences though? How do Skrill and Neteller India compare?
Skrill
Feature
Neteller
40+
Number of currencies
30
up to 20 minutes
Deposit time
1 hour – 6 days
Bank transfer – Free
Debit/Credit Card – 1.90%
Deposit fees
Bank transfer – Free
Debit/Credit Card – 2.50%
2 – 5 days
Withdrawal time
3 – 5 days
Bank transfer – $5.50
Withdrawal fees
Bank transfer – $10
€5 or equivalent per month after 12 months of inactivity
Inactivity fees
$5 or equivalent per month after 12 months of inactivity
3.99%
Currency conversion
3.99%
10Cric Welcome Skrill Deposits From Customers in India
10Cric are a bookmaker that Skrill customers will enjoy.
Firstly, as a brand that only accepts Indian customers, they have cricket at the heart of everything they do.
Furthermore, that extends from a high-value welcome offer to regular promotions and offers tailored to cricket fans.
Deposits accepted using e-wallets won't exclude players from claiming any bonuses. This shows a true understanding of the Indian betting market.
Because of this, 10Cric are one of our top-rated online bookies.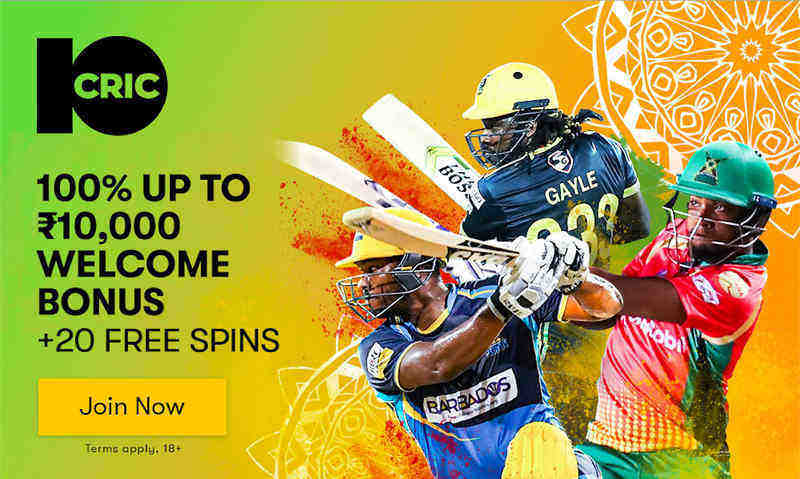 Moneybookers Became Skrill
Skrill was previously known as Moneybookers and was formed in 2001, very early on in the online betting era. That's nearly two decades of experience in processing financial transactions.
Moneybookers rebranded as Skrill back in 2013 and has continued to grow since. It added a cryptocurrency service in 2018.
Since 2015, the company has been part of the Paysafe Group, which includes Skrill as well as Neteller and paysafecard.
Moneybookers was Designed for Online Gaming
When it comes to managing your funds online, you want to be sure you're in the right hands.
Focusing on the betting industry meant Moneybookers and now Skrill is widely available for making deposits and withdrawals from gaming companies like sports betting sites or online casinos.
There's even a checkbox to indicate whether your funds are going to be used for gambling so they can look after your requirements as well as possible.
This should definitely be seen as a huge positive for its users. Indeed, the company has grown and developed alongside some of the bookmakers that we know and love.
Use Skrill 1-Tap on Mobile
In 2012, Skrill 1-Tap was launched. It allows for payments to be authorised with a single click.
This speeds up the process even more when using an online betting app. It also avoids the need to enter log in details every time you want to make a transaction.
As many bettors now use apps to place wagers via their smartphones or tablets, Skrill 1-Tap is an ideal feature to ensure deposits go through as soon as possible.
A Pre-paid Skrill Card Can Avoid Fees
Usually betting sites don't charge fees for processing deposits or withdrawals via Skrill.
However, when attempting to move your funds from your account back to an Indian bank, there may be some additional charges.
While you could transfer money from a credit card to a bank account without any charges, another option is to request a pre-paid Skrill card. You can then link the Mastercard to your online account and spend your balance accordingly.
This service is available online too, so customers can add a virtual card to their wallet and make payments anywhere that Mastercard transactions are welcomed.
Your first card is free although there is a small charge for foreign exchange and an annual service fee of 10 USD.
And, yes, the Skrill pre-paid card is available in India.
Advantages of Using Skrill for Betting
There are many advantages of using Skrill India when looking to place bets online.
✅ Free to sign up for an account
✅ Gives you enhanced safety and security
✅ Welcomed by most cricket betting sites
✅ INR available as a default currency
✅ Virtual card available to spend funds online
✅ Access via desktop and mobile
✅ It has been designed for the gaming industry
✅ More than 40 currency options available
Disadvantages of using Skrill for Betting
A few disadvantages worth considering are:
❌ Skrill is excluded from some welcome offers and bonuses
❌ Fees apply to withdraw to a bank account in India
❌ Not all banks accept Skrill to make payments
❌ Skrill prohibits transfers to some other payment systems
Skrill Betting Sites – Summary
Skrill can be an easy and safe way to deposit funds into your online betting account.
Once you have registered with Skrill India, you will soon be taking advantage of quick money transfers. Extra features like 1-tap on mobile make this even quicker too, which is great when placing bets in a hurry.
Picking betting sites that use Skrill makes this whole process even easier and means you can still enjoy welcome offers and bonuses.
Betting With Skrill – Frequently Asked Questions
Q. What betting sites use Skrill?
A. Skrill is widely accepted by online betting sites in India. It means you can use it to fund your cricket betting account.
Q. Is Skrill legal in India?
A. Yes, Skrill is legal in India and can be used to safely withdraw and deposit funds. Therefore, it's a great choice if you're looking to bet online.
Q. How do I withdraw money from Skrill India?
A. You just need to go to the 'Withdraw' section of your Skrill account. Here you can select a registered bank account to send the money. Any additional fees to do this will be shown.
Q. Is Skrill excluded from betting site welcome offers?
A. Most cricket betting sites don't exclude players from India from their welcome offers if they deposit via Skrill. One example of this is the 10CRIC welcome offer. Make sure to check the T&Cs before making your deposit though.
Q. Do Skrill accept transactions in Indian Rupees (INR)?
A. Skrill, previously known as Moneybookers, allows customers to set their default currency in 40 currencies, including Indian Rupees (INR). When you set up an account, be sure to select INR.